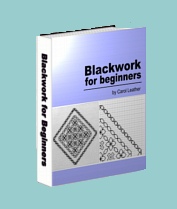 What will you learn from the Blackwork for Beginners ebook?
Blackwork for Beginners takes your hand and leads you through:
How to choose fabric, threads and the right needle
Other needlework supplies it would be useful to have handy
Learn how to start and finish your threads neatly
Whether to start with the outlines or fill patterns
How to add that touch of gold that makes a design sparkle
How to use wonderful over-dyed threads with their random colour changes
How to pick the right fill pattern for a particular area
How to add shading and depth to your blackwork design and . . . lots more.
Learning the technique is all well and good but you want to actually stitch something don't you?
Why do you need Blackwork for Beginners?
If you have ever considered trying blackwork but didn't know where to start – this is the book for you.
If you have ever wondered how to make the back of your work as neat as the front – this is the book for you.
If you have ever been dumbfounded when looking at a blackwork pattern and had no idea how to tackle it – this is the book for you.
Order today and claim your FREE bonus